¡How to save your loved one's life!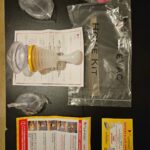 Every year dozens of people die unnecessarily.
If a knowledgeable person was near them. They could have been saved.
Most of them are children and old age people.
· I must highlight the urgency and severity of these incidents at home, especially involving children and elderly individuals.
Several of these deaths occurred at home.
And they can occur anywhere.
Food is one of the major objects responsible for those deaths.
Other objects can produce them. Marbles, toys, small pieces of anything, round objects, etc.
The terrible choking experience:
These are deaths produced by choking with an object stuck in the throat.
That is an airway obstruction.
The airway tracheal obstruction.
The person cannot get air to his/her lungs, can't breathe.
This lack of air, oxygen, if prolonged will cause brain damage and then death.
· An explanation of airway tracheal obstruction and its consequences on the brain and life.
Most people don't know the effective way of helping a choking person.
Probably, you are one of them.
It's terrifying to see someone choking, especially a loved one, and not been able to do something to save that person's life.
Responding to the emergency:
Usually, you or another person must respond rapidly.
You only have minutes to do something.
You must call 9-1-1, and follow the instructions given by the system.
You must apply the Heimlich maneuver or back blows and abdominal compressions, and CPR as taught by the American Red Cross and the American Heart Association.
That is why it is very important to take those courses and trainings.
Contact your local ARC or AHA for information.
This is for USA jurisdictions.
Other countries might have other institutions providing these lifesaving trainings.
Contact your local health care provider for information.
· It is important knowing the right methods to help a choking person; with emphasis on swift action with references to 9-1-1, the Heimlich maneuver, back blows, abdominal compressions, and CPR
· I encourage realistically to acquire lifesaving training from trusted institutions like the American Red Cross and the American Heart Association, along with similar organizations in non-US jurisdictions.
The Life Saving Device:
But there could be times when you will need additional actions to save a choking person's life.
That is when you will need the LifeVac.
This is a device used to extract an object from the person's airway or throat.
It is simple to use and has saved many lives. You will receive it with easy-to-follow instructions on how to use it effectively.
It is "registered" with the FDA.
It is a very wise action to always have one handy.
You never know when you might need it.
· This is an introduction of LifeVac as an additional lifesaving device for instances when conventional methods may not suffice.
Choking can happen at any time, day, hour, place.
My experiences with choking events:
· I had to save my father's life at 5:00 am in the morning, choked with a piece of bread while having breakfast.
· My sister saved a cousin's life at lunch time.
· A cousin saved her brother's life eating munchies.
· My son saved his mother's life while snacking.
Everybody should have one:
There is one size for children and another for adults.
Every school, hospital, childcare, adult care, food service, home, etc. should have one or more.
· Understanding how the LifeVac functions and why it is important to have one handy, given the unpredictability of choking incidents.
· Different sizes available for children and adults; can become the ubiquity of LifeVacs in places like schools, hospitals, child and adult care centers, food services, and homes.
How to acquire one:
For more information and to acquire one or more, visit the following link:
Saving lives with LifeVac: A simple device to combat choking hazards.
http://www.amazon.com/dp/B07L9MBLYP/ref=nosim?tag= siul0f-20